NEWS / AWARDS
Winners of 2008 Prairie Design Awards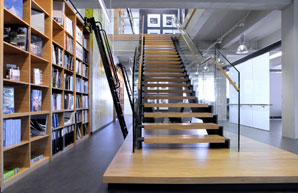 Award of Merit
Category: Interior Design
CustomSpace
Calgary, Alberta
Architect: Cohos Evamy integratedesign™
Owner/Client: Cohos Evamy integratedesign™
Structural Engineer: Cohos Evamy integratedesign™
Mechanical Engineer: Cohos Evamy integratedesign™
Electrical Engineer: Cohos Evamy integratedesign™
Contractor: Lignum Interiors
Photographer: Cohos Evamy integratedesign™
The Project
Customspace occupies Calgary's 1912 Customs House, an old Canada Customs warehouse, situated in an area that is undergoing significant urban transformation as it embraces both its past and its future. Innovative and environmentally responsive strategies were utilized throughout and CustomSpace has received LEED Silver certification.
Jury Comments
This project is an adaptive reuse of a building to house an inter-disciplinary design firm. It demonstrates that striving for design excellence begins at home. This is reflected in the clarity and overall organization of the plan. The interior spaces are open, colorful, and even playful in some areas. Careful consideration to integrating both natural and artificial light is particularly noteworthy. Further, thorough attention to shared work and common spaces is evident throughout, supporting both their design philosophy and a clear commitment to social practices in the workplace.
Photos
Click image(s) to zoom.