NEWS / AWARDS
Winners of 2008 Prairie Design Awards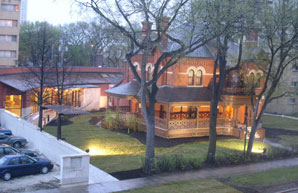 Award of Merit
Category: Recent Work
Dalnavert Museum
Winnipeg, Manitoba
Architect: BridgmanCollaborative Architecture Ltd.
Structural Engineer: Wolfrom Engineering
Mechanical Engineer: Ed Faraci
Electrical Engineer: Paul Chung PD Engineering
Photographer: BridgmanCollaborative Architecture Ltd.
The Project
The Dalnavert Visitor centre is an interpretive centre attached to the historic house-museum of Hugh John Macdonald. The visitor centre was built under the auspices of the Manitoba Historical Society and is the first "green" heritage building in Canada. The project was awarded the 2006 Institution Conservation Award for Excellence by Heritage Winnipeg.
Jury Comments
The curved massing element works beautifully and respectfully in relation to the Dalnavert heritage home. The new building frames the house in a very nice manner that is both pedestrian and intimate. It operates both architecturally as a building and theatrically as a 'stage prop'. Isolating the parking behind stone-clad wall was also a very useful idea to further enhance the house.
Photos
Click image(s) to zoom.