NEWS / AWARDS
Winners of 2008 Prairie Design Awards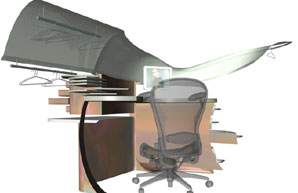 Award of Merit
Category: Student Work
Extending the Limits: Interior Design & Disabled Spatial Identities
Winnipeg, Manitoba
Entrant: Celeste Brunel
Photographer: Celeste Brunel
The Project
A case study to design a workspace that enables an individual with TAR syndrome to carry out a range of work that typically could not be done in conventional workspace. An individual with TAR Syndrome has short arms that cause his or her hands to rest on the chest. This research project demonstrates a new technique for designing human-centred environments using choreographic dance software in combination with 3D architectural software.
Jury Comments
The idea to take dance software and to use it in an architectural setting in order to explore design problems associated with movement and ergonomic conditions for people with this syndrome, is certainly one of the projects strengths, and weaknesses. The drawings are very evocative but one is not sure that the material manifestation of the exploration is quite believable. Still, it represents an interesting direction for design research.
Photos
Click image(s) to zoom.