NEWS / AWARDS
Winners of 2008 Prairie Design Awards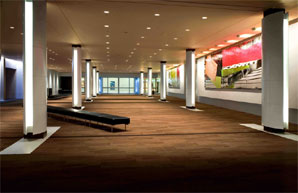 Award of Excellence
Category: Interior Design
Hall 'D', Shaw Conference Centre
Edmonton, Alberta
Architect: Cohos Evamy integratedesign™
Owner/Client: Shaw Conference Centre
Interior Designer: Cohos Evamy integratedesign™
Structural Engineer: Cohos Evamy integratedesign™
Mechanical Engineer: Cohos Evamy integratedesign™
Electrical Engineer: Cohos Evamy integratedesign™
Contractor: Marshall-Lee Construction Corp.
Photographer: Ray Steinke
Art Commission: Clay Ellis
The Project
Hall D cantilevers out from its base, the existing Shaw Centre, to perch on the edge of the North Saskatchewan River. It hovers between the valley floor and the horizon line, providing a unique and intimate view of Edmonton's river valley. It is an image that defines the character of the city. It would be difficult for anyone to leave Hall D without a very real impression of Edmonton.
Jury Comments
The building renovation and expansion program for this conference centre is both varied and ambitious, resulting in a facility that can accommodate a broad range of clients and groups, both large and small. The spatial drama unfolds as one moves through these spaces which are defined by thoughtful lighting details, i.e. light columns, material finishes, daylight, and art work. The colour palette is drawn from the prairie landscape, and the overall effect is one of 'earthiness'. The materials denote or incorporate lasting qualities including wood, plaster and quartz. The horizon and sky are celebrated in Hall D where the room itself is transformed into window to the prairie horizon and the sky above.
Photos
Click image(s) to zoom.