NEWS / AWARDS
Winners of 2008 Prairie Design Awards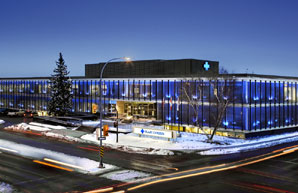 Award of Merit
Category: Recent Work
Manitoba Blue Cross Tenant Improvements
Winnipeg, Manitoba
Architect: Stantec Architecture Ltd.
Owner/Client: Manitoba Blue Cross
Architect of Record: Verne Reimer
Interior Designers: Cindy Rodych, Tedd Littleford, Jennifer Young
Structural Engineer: Tower Engineering Group
Mechanical Engineer: Tower Engineering Group
Electrical Engineer: Tower Engineering Group
Contractor: A. Akman & Son Ltd.
Photographer: Gerry Kopelow
The Project
The renovation of 599 Empress Street was undertaken as a historic preservation project, incorporating modernist design principles and details. The result is the restoration of one of Winnipeg's best examples of a classic modernist building, while at the same time providing the client an office space that maintains flexibility for future growth and celebrates their rich history.
Jury Comments
This project is particularly significant because it aims to restore a wonderful modernist / international style building while saving it from the scrap heap, which makes this project a 'green building' as well. The architects were able to save a piece of our architectural heritage without resorting to manufacturing more materials and creating more air pollution. Where required new building materials and finishes were reproduced, which is seen as noteworthy.
Photos
Click image(s) to zoom.