NEWS / AWARDS
Winners of 2008 Prairie Design Awards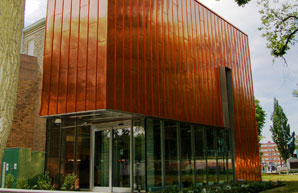 Award of Excellence
Category: Recent Work
Movement Disorder Clinic
Winnipeg, Manitoba
Architect: Cohlmeyer Architects Limited
Owner/Client: Winnipeg Regional Health Authority
Structural Engineer: Crosier Kilgour & Partners Ltd.
Mechanical Engineer: G.D Stasynec & Associates Ltd.
Electrical Engineer: PC Engineering Ltd.
Contractor: Bockstael Construction (1979) Ltd.
Photographer: Cohlmeyer Architects Limited
The Project
The Women's Tribute Memorial Lodge was constructed in 1931 to provide recreational and social services to veterans of the First World War. As its initial purpose became obsolete with time, it was used as a Legion Hall until its eventual abandonment in the early 1990's.
An addition and complete rehabilitation has transformed the building for use as a Movement Disorder Clinic, a new program of Deer Lodge Hospital. The Clinic's design emerges from a mediation of elements; between existing and new, inside and outside, traditional and modern.
Jury Comments
This is a beautiful project, although as a heritage renewal project it does not really speak about the existing building. That said, there are a number of interesting moves in this project. The relationships between old and new, traditional and contemporary, opacity and transparency strongly support that the two buildings are in a 'dialogue'. The use of copper is very elegant and as it weathers, it will create a closer material relationship with the existing building. The cantilevering of the new building, used to define the new entrance, brings a dynamic tension to the project – new life to an old building.
Photos
Click image(s) to zoom.