NEWS / AWARDS
Winners of 2008 Prairie Design Awards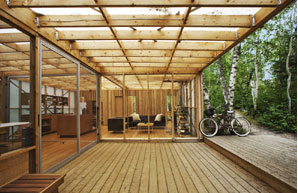 Award of Merit
Category: Recent Work
Penner Summer Cottage
Sandy Bay, Manitoba
Architect: David Penner Architect
Owner/Client: Marion & David Penner
Structural Engineers: Wolfrom Engineering, Dan Wolfrom
Contractor: Norm Gautron
Photographer: Gerry Kopelow
The Project
This family cottage is located 1 hour north of Winnipeg near Victoria Beach on Lake Winnipeg. Conventional framing techniques combined with an unconventionally minimal and translucent skin serve to create an exterior envelope that is made alive with the kinetic shadows of clouds, leaves and birds. At night the cottage acts as a giant lantern, illuminating ground cover and canopy.
Jury Comments
This project is very seductive. The idea of building something light, with a reduced structure very much like a tent, is very sensual. This is the idea that many people can draw but rarely can build. One is reminded how some buildings look their best architecturally before the building is closed in. This is an example of that condition. The lightness of the building and its intimate relationship with the site and landscape are commendable. One would think that the Aspen forest would have to play a role in mediating the summer sun from solar heat gain in the cottage. This is clearly a setting for ritual activity. One can almost sense children coming back from the beach to eat in the kitchen or to play on the cottage deck.
Photos
Click image(s) to zoom.