NEWS / AWARDS
Winners of 2008 Prairie Design Awards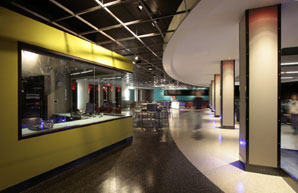 Award of Merit
Category: Interior Design
Red River College Students' Association "The Cave" Renovation
Winnipeg, Manitoba
Architect: LM Architectural Group
Owner/Client: Red River College Students' Association
Architect of Record: Terry W. Danelley
Interior Designers: Sarah Jane Carpenter, Mike Isbister
Other Team Members: Garret Hamm, Michael Farion, Darrell Sawatzky
Mechanical Engineer: MCW/AGE Engineers Ltd.
Electrical Engineer: MCW/AGE Engineers Ltd.
Contractor: Bockstael Construction (1979) Ltd.
Photographer: Julianna Funk
The Project
With an annual enrollment of 32,000 full and part-time students Red River College has experienced significant growth, requiring it to change and adapt to meet the needs of its diverse student body. The Cave is the main student lounge located in Red River College's Notre Dame Campus. It serves as a social gathering node for students to meet friends, exchange ideas, watch movies or experience live music.
Jury Comments
The success of this project lies in the way the interior designers have been able to create an interesting variety of spaces in one volume. The dominant organizing form is an ellipse, around which various functions are gathered. The circulation pattern helps to reinforce and support the fluid movement between activity spaces. Also noteworthy, are the juxtaposition of 'raw' and 'refined' materials, finishes, and colours throughout the lounge area.
Photos
Click image(s) to zoom.