NEWS / AWARDS
Winners of 2008 Prairie Design Awards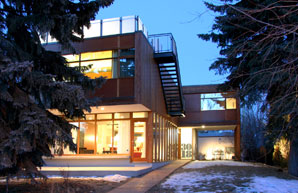 Award of Merit
Category: Recent Work
Sims Residence
Calgary, Alberta
Architect: Marc Boutin
Owner/Client: Chris Sims & Lane Fraser Sims
Structural Engineers: Bob Moffat, Moffat Architecture & Engineering
Contractor: Meadow Sage Builders
Photographer: Ron Choe 2008
The Project
This project is located on an inner city site in Calgary that is connected to urban amenities and is therefore pedestrian in nature. The clients desired the capacity to be both extroverted and neighbourly, and at times introverted and private. The resultant architectural expression is responsive to the client's desires, the Calgary market and the project schedule.
Jury Comments
This house design is a very thoughtful exploration between interior and exterior space in an urban setting. The use of materials helps to reinforce the relationship between interior and exterior spaces. Additionally, the generous fenestration areas at grade provide further opportunity to engage the site. The plan and program are very cleverly orchestrated. At the same time, there is a straight-forward logic to the plan that is also very interesting. In particular, the spatial relationship between levels and the use of side and skylights help to create an overall richness to the interior spaces. It seems to be very livable.
Photos
Click image(s) to zoom.