NEWS / AWARDS
Winners of 2008 Prairie Design Awards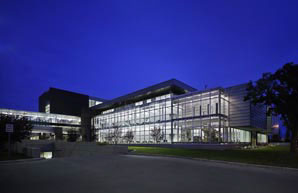 Award of Merit
Category: Recent Work
Spartan Centre for Instrumentation Technology & the Petro-Canada Centre for Millwright Technology
Edmonton, Alberta
Architect: Cohos Evamy integratedesign™
Owner/Client: Northern Alberta Institute of Technology
Other Team Members: Cohos Evamy integratedesign™
Structural Engineer: Walters Chambers Associates
Mechanical Engineer: Hemisphere Engineering Inc.
Electrical Engineer: Stantec
Contractor: Stuart Olson Constructors Inc.
Photographer: Tom Arban
The Project
The Spartan Centre for Instrumentation and Petro-Canada Centre for Millwright technology is the newest infrastructure investment in specialized hands-on learning for the Northern Alberta Institute of Technology. The building is intended to facilitate the qualities of intensive, high-tech training. The result is a design that is robust, open and straightforward.
Jury Comments
This project aims to take advantage of revealing, or making visible, what is going on throughout the complex. Different programs and program elements including common areas, classrooms, circulation, and equipment areas are 'mediated' by generous glazed areas, and conjoined around a shared common atrium area. There is clarity of spatial and structural expression made visible on the exterior elevations and carried through into the interiors. Additionally, there is a consistent spatial interplay and refinement throughout this building complex that sets it apart from the others. However, given that Petro-Canada is involved, one would think that incorporating green technologies could have been pursued more rigorously.
Photos
Click image(s) to zoom.