NEWS / AWARDS
Winners of 2008 Prairie Design Awards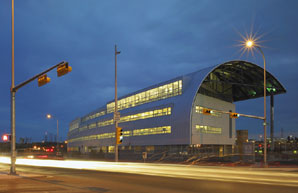 Award of Excellence
Category: Recent Work
The Water Centre
Calgary, Alberta
Architects: Manasc Isaac Architects + Sturgess Architecture
Owner/Client: The City of Calgary
Landscape Architect: Carlyle and Associates Landscape Architecture
Structural Engineer: Read Jones Christoffersen Consulting Engineers
Mechanical Engineer: Stantec
Electrical Engineer: Stantec
Contractor: Dominion Construction
Photographers: Keith Walker, Jeremy Sturgess, Robert Lemermeyer
Other Images: Sturgess Architecture
The Project
Located on a brownfield site, the construction of the building is the culmination of the first phase of the urban development of the City of Calgary industrial yards into a civic operational and administrative centre. As the first project in the area's redevelopment, this building's architectural qualities and public space set a standard that future projects must respect.
Jury Comments
This project successfully makes a big move in an industrial setting by breaking down a large mass to engage smaller elements. It has unbelievable generosity of open space in the interior spaces that lead outwards to a beautiful park-like landscape. There is a sense of fluidity and fit to this project that is quite remarkable. The project is very appealing from the street where it acts as an urban edge to motorists passing by. This project is very interesting programmatically, in terms of meeting both social and environmental objectives.
Photos
Click image(s) to zoom.