NEWS / AWARDS
Winners of 2008 Prairie Design Awards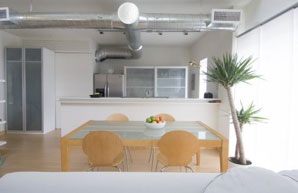 Award of Excellence
Category: Recent Work
Webbsite
Winnipeg, Manitoba
Architect: Cohlmeyer Architects Limited
Owner/Client: Forks North Portage Partnership
Structural Engineer: Crosier Kilgour & Partners Ltd.
Civil Engineer: Manenco
Photographer: Cohlmeyer Architects Limited
The Project
Webbsite is a 7,000 sq.ft. infill condominium project in downtown Winnipeg with seven two to three storey lofts nestled between a college and an historic apartment building. it provides a catalyst for similar projects and to prove the viability of new residential developments in Winnipeg's core.
Jury Comments
There is a degree of difficulty associated with this project that should be recognized. It is quite simple in some respects but it is also sophisticated. There is a clear presentation of 'modesty of means' to create affordable housing. It has been carried out with clarity & cost effectiveness. The dwelling units have been thoughtfully designed with due concern for privacy and yet the 2 storey unit spaces create a focus for the inhabitants. There is also a strong sense of identity and place achieved by the integration of the units on a difficult site. The inventiveness and commitment to the detailed cladding is appreciated, and certainly uncommon for 'developer' housing.
Photos
Click image(s) to zoom.