NEWS / AWARDS
Winners of 2010 Prairie Design Awards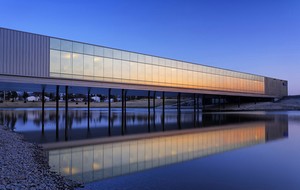 Award of Excellence
Category: Recent Work
H2Office
Winnipeg, Manitoba
Architect: Cibinel Architects Ltd.
Owner/Client: Smartpark Development Corporation
Structural Engineer: Crosier Kilgour & Partners Ltd.
Mechanical Engineer: Epp Siepman Engineering Ltd.
Electrical Engineer: SMS Engineering Ltd.
Contractor: Concord Projects Ltd.
Photographer: Mike Karakas
The Project
By challenging the standard planning principles of the business park subdivision, H2Office is a building that blurs architecture, landscape, water management and sustainability. Early on, development guidelines were pushed with the desire to locate the building closer to the water. In breaking the predefined lot line, the "building as a bridge" emerged, reminiscent of the low horizontal bridges of the Canadian prairie landscape.
The narrow volume, supported on thin columns, draws a prairie datum line across the retention pond, offering abundant natural daylight and expansive views of the landscape. Through clear detailing, the exterior butt-jointed, mirrored glazing allows the building to embed itself in its surroundings, reflecting its modulating landscape. The metal cladding, with a custom formulated dark metallic finish, allows the building to reflect and respond to the exterior light quality, from shimmering in full daylight to a subtle, delicate quality at dusk.
With expansive open interior office space, high ceilings, exposed steel structure painted in the same metallic hue as the exterior, complimentary warm natural finisher, energy efficient under-floor air distribution and energy saving direct/indirect lighting, this project creates a premium office environment for its clients and a clear landmark in the Smartpark Research and Technology Park.
Photos
Click image(s) to zoom.