NEWS / AWARDS
Winners of 2010 Prairie Design Awards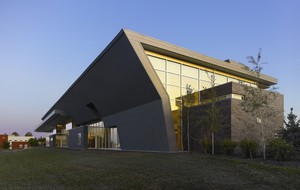 Award of Excellence
Category: Recent Work
Montrose Cultural Center
Grand Prairie, Alberta
Architect: Teeple Architects
Associate Architect: Kasian Architecture
Owner/Client: City of Grande Prairie
Structural Engineer: KTA Group Inc.
Mechanical Engineer: Hemisphere Engineering Inc.
Electrical Engineer: Beaubien Glover Maskell
Landscape Architect: Scatliffe+Miller+Murray
Contractor: Wright Construction Western Inc.
LEED: Enermodal Engineering
Cost: BTY Group
The Project
Set in Grande Prairie's downtown, the Montrose Cultural Centre is conceived as a new cultural hub and rejuvenated civic focal point. The 60,000 square foot Centre houses a library, exhibition spaces, community meeting rooms, a café and art gallery. Since opening in June 2009, the building is playing a successful transformational role in the city's development becoming the heart of the city, in the heart of the city.
'Capturing' the iconic prairie grasslands and the dramatic beauty of the northern prairie light, both literally and figuratively, was the key design focus. The curtain wall and large clerestory windows fill the interior with natural light year-round. Both coloured and textured glazing introduce the prairie palate into the interior spaces while maintaining interior and exterior views. The poetic form of the south elevation reads as an expressive linear gesture reminiscent of blowing prairie grasses hugging the skyline. Building materials including standing seam zinc cladding, pitted brick and coloured exterior glazing create different light and shadow conditions as time of day and seasons change. Colourful low trusses strategically channel light deep inside the building while providing protection from the heat of the summer sun. These brightly hued fins also generate an irregular patchwork of shapes, shadows and colour recalling the textured Alberta landscape.
Targeted LEED Silver, sustainability is a primary consideration of the design. Local materials are used throughout and energy conservation is achieved through an efficient building envelope, heat recovery and the use of high efficiency lighting, glazing and building systems
 
Photos
Click image(s) to zoom.