NEWS / AWARDS
Winners of 2010 Prairie Design Awards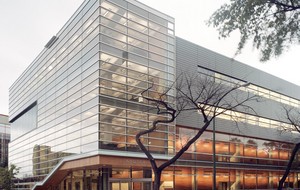 Award of Merit
Category: Recent Work
Apotex Centre, Faculty of Pharmacy
University of Manitoba, Winnipeg Manitoba
Architect: Corbett Cibinel Architects
Owner/Client: University of Manitoba
Structural Engineer: Wardrop Engineering
Mechanical Engineer: Wardrop Engineering
Electrical Engineer: Wardrop Engineering
Contractor: Bockstael Construction Ltd.
Photographer: Lisa Stinner-Kun
The Project
The new 100,000 sq. ft. Apotex Center for the University of Manitoba's Faculty of Pharmacy is situated at the downtown Bannatyne campus, relocating it from its aging facility at the Fort Garry campus and allowing for enhanced interconnections with the Faculties of Medicine and Dentistry as well as the Health Sciences Centre.
Programmatically, the building is divided into two distinct zones, the educational component (undergraduate level), housed in the lower three floor plates and the research component (graduate level) which occupies the upper two level. The educational component, clad in locally harvested aspen, becomes exposed as the facade glazing disappears and the two storey volume reveals itself as the buildings apparent facade. The horizontally detailed wood box reminds the viewer of the two storey wood clad houses that once occupied the site. The refined zinc clad volume floating above the wood box houses the research component of the building; its crisp, clean lines express the notion of the pure, uncontaminated space it encompasses.
A key planning objective was to promote interaction between the undergraduate students, graduate students, and faculty – thus an unprogrammed third space,
stretched vertically along the east end of the building, acts as the mediator between the programs. It is here that a sense of community is strengthened between the users. Clad in acts as a lantern for the urban environment beyond.
 
Photos
Click image(s) to zoom.