NEWS / AWARDS
Winners of 2010 Prairie Design Awards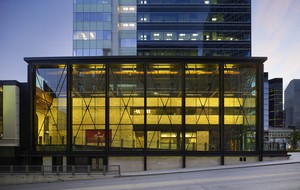 Award of Merit
Category: Recent Work
Royal Canadian Pacific Entry Pavilion
Calgary, Alberta
Architect: Cohos Evamy Integratedesign
Owner/Client: Canadian Pacific Railway
Structural Engineer: Cohos Evamy Integratedesign
Mechanical Engineer: Cohos Evamy Integratedesign
Electrical Engineer: Cohos Evamy Integratedesign
The Project
The Royal Canadian Pacific Pavilion provides an entry and street address for the Canadian Pacific owned Royal Canadian Pacific, an exclusive charter railway excursion company with routes into the Rockies. The site, a 500m2 corner lot situated within Calgary's urban core, addresses both the historic Palliser Hotel and Grain Exchange buildings. In addition to providing a front door, the pavilion provides a direct connection from the public street to the actual train shed and train cars beyond.
The inspiration for the Royal Canadian Pacific Entry Pavilion is the image of an historic steel trestle bridge. The trestle sets up the primary public space – the Grand foyer – which links directly to the existing Royal Canadian Pacific train pavilion. The two story pavilion houses an entry hall and glazed galleria. A three-storey wall of cable and spider fitting glass faces the Palliser Hotel and fills the Galleria with natural light. Offices, a commercial kitchen, staff change and lunch rooms, storage and meeting rooms are accommodated over two floors.
Oversized heavy steel members emulate a trestle bridge and the limestone masonry reflects the heavy nature of the Rocky Mountains. Materials such as black plate steel, glass, and stone are consistent amongst the existing train pavilion, the adjacent Palliser Hotel and neighbouring Grain Exchange building.
A plaza is created by the pavilion's set-back from the street, which eases the severity of this high traffic corner, Urban 'artefacts' have been set into the n the plaza's concrete. These artefacts include a bronze berth control key, switch lock, railway spike, and rail cross-section-all objects significat to the history of Canadian Pacific Rail.
Photos
Click image(s) to zoom.