NEWS / AWARDS
Winners of 2010 Prairie Design Awards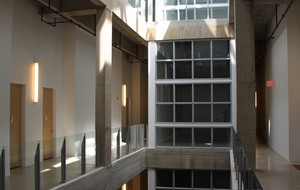 Award of Excellence
Category: Interior Design
2nd Avenue Lots
Saskatoon, Saskatchewan
Architect: Dub Architects Ltd.
Owner/Client: 101051911 Saskatchewan Ltd.
Structural Engineer: Prakash Consulting Ltd.
Mechanical Engineer: Implicit Engineering Ltd.
Electrical Engineer: Implicit Engineering Ltd.
Contractor: 101051911 Saskatchewan Ltd.
The Project
2nd Avenue lofts addresses three important architectural issues of the coming decades: the sustainable adaptation of buildings built in Canada during the booming sixties and seventies; the residential revitalization of the central cores of our cities; and the need for an alternative housing form for young adults on modest incomes.
Housed in the former Hudson Bay building in Saskatoon, 2nd Avenue Lofts transforms the abandoned department store into 130 2-storey lofts and streetfront retail uses. 2-storey penthouse units constructed with steel frame and deck are added to the original 4 storey concrete building. 17'-high ceilings allow for mezzanines in all units, which are kept open to allow natural light from large 15'-high widows to penetrate the deep units.
A skylight cut into the centre of the building brings natural light down into amenity rooms and the atrium. The exposed concrete structure and polished concrete floors, featured throughout the corridors and residences, are complimented by the minimal detailing of the new construction.
The double-height widows respect the limestone, brick and mosaic on the exterior facades. The unique design of the exterior mosaic was restored with tiles savaged from the window cutouts. The restored ground floor storefronts anticipate retail uses that generate street activity, and remain as consistent with the 1960 design as possible by retaining the red granite surrounding the glazing. Limestone and brick removed for the windows was reused, and concrete removed for the atrium and basement ramp was recycled. From a sustainability perspective, almost the entire 1960 building is retained.
Photos
Click image(s) to zoom.