NEWS / AWARDS
Winners of 2010 Prairie Design Awards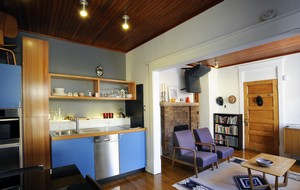 Award of Merit
Category: Interior Design
tiny + heritage + green = home
Regina, Saskatchewan
Architect: Bernard Flaman
Owner/Client: Bernard Flaman
Contractor: St. Amand Studio
The Project
The Bartleman Apartment building was constructed in 1914 as rental accommodation for middle class tenants. The prolific Regina architectural firm of Storey and Van Egmond included six small 450 sq.ft. one bedroom units in the design along with larger one and two bedroom units. The original plans indicate that the small units were built without kitchens, intended for "young gentlemen" who were not expected to cook for themselves. The layout gains its efficiency by providing access to the bathroom through the bedroom. Also, the irregular overall footprint of the Bartleman, which includes a courtyard, allows for natural light in every room.
The initial impulse was to gut the space and create a very contemporary and minimalist environment, but after evaluating the remaining intact or repairable historic elements, including the original double hung windows and wood moldings, a minimal intervention direction was decided upon. The value of the plan also became apparent when other options were explored and they failed to match the utility and practicality of the original.
The Standards and guidelines for the Conservation of Historic Places in Canada were used to guide the work. The standards that recommended minimal intervention (standard 2), evaluating the condition of character defining elements before intervening (standard 7) and creating new interventions that are compatible, distinguishable and subordinate to the historic place (standard 11), were particularly relevant. The Guidelines articulate a concept of "conservation hierarchy": preserve before repair, repair before replace and replace "in-kind" or with compatible contemporary elements.
The application of the Standard and Guidelines resulted in a preserved fireplace plaster, windows, mouldings, front door, exterior door and wood flooring and a replaced "in-kind" storm door. The bedroom, bathroom and closet doors were replaced with compatible contemporary doors after evaluating their condition. The new ceiling is reclaimed tongue and groove Douglas fir stained red. Hardwood flooring discovered under the vinyl flooring in the bathroom was partially rotted, but sound portions were salvaged, re-planed and installed as flooring in the closet. New element such as the kitchen and bedroom doors introduce a subtle layering illustrated by the "floating" upper kitchen cupboard and use of frosted glass to bring an illusion of designs. The strategy treats them as sculptures and lends an edgy and surrealistic note to the space.
The small size of the unit combined with a minimal intervention approach and use of reclaimed materials both from within the apartment and elsewhere combine good heritage conservation practices with sustainable design by minimizing waste and the use of new resources.
Photos
Click image(s) to zoom.